Well, I have been hinting about it for months now, and it's almost here:  On January 27, 2011, Episode Two of Jean-Pierre Houdin's work with the Great Pyramid, called Khufu Reborn, will premiere at La Géode in Paris, and your Humble Scribe will be there to cover the event and try his best to get some inside scoop.
Methinks I will be successful…
Project Khufu Timeline
In its earliest years, the best theory of how the Great Pyramid was built was making its rounds within the innermost circles of Egyptology.  Only a few people were "in the know" well enough to appreciate what had been accomplished—a French Architect named Jean-Pierre Houdin had formulated a theory of how the Great Pyramid was built that took into account the tools and methods that we know the Egyptians had at the time, the challenges of the terrain, and the evidence, some of which had not yet been recognized as such.
The average person with only a casual interest in Egypt has not spent much time pondering how the Great Pyramid was built, and many unfortunately still assume that it was built by slaves (it wasn't) working on a long ramp that went all the way to the top (it didn't) which then somehow disappeared into the sands of the desert (it couldn't).  We have Hollywood to thank for that.  Jean-Pierre presented the first comprehensive theory that actually did work, and with a little help from his friends, brought it to the general public in a way that not only made sense but was actually interesting.
In March, 2007, Jean-Pierre premiered his work at La Géode in Paris, and did so in a way that transported viewers to the Giza Plateau of 4,500 years ago to see how the Great Pyramid could have been built.  Working with some of the brightest engineers and experts in industrial 3D imaging technology, courtesy of Dassault Systèmes, Jean-Pierre was able to immerse the audience into the world of the pyramid builders and show what the architecture and evidence tell us. For the first time he was able to present his theory and demonstrate its validity to people of all levels of experience and interest.
From 2007 to 2010 Jean-Pierre's work continued to be presented three times a week at La Géode as Kheops 3D, a 3D stand-alone version of his March, 2007, presentation.  Powered by the same imaging technology Dassault Systèmes uses in everything from designing exotic race cars to aerospace and defense applications, Kheops 3D took even the most the abstract and technical aspects of Jean-Pierre's work and literally rendered it into a purely visual experience that anyone can follow.
Meanwhile, support for Jean-Pierre continued to gain momentum within the world of Egyptologists.  Another of his earliest and most vocal supporters was the Egyptologist Dr. Bob Brier, most often associated with his work with mummies, but who has more recently been writing and lecturing about ancient Egyptian architecture.   Support is perhaps an understatement.  Dr. Brier not only made the necessary introductions between Jean-Pierre and some of the other luminaries of the Egyptological world, he co-wrote The Secret of the Great Pyramid with Jean-Pierre.
In 2008, while filming the documentary Khufu Revealed, Dr. Brier discovered a small room in an exposed niche in the north-east ridge of the Great Pyramid.  His attention was drawn to the niche in the first place because Jean-Pierre theorizes that such niches would have existed at the junction points where one stretch of the internal ramp gives way to another.  This particular niche is where Jean-Pierre calculated that a north-bound corridor would have connected to a west-bound corridor.  Dr. Brier's observations were not entirely conclusive, but the discovery inspired Jean-Pierre and the team from Dassault Systèmes to redouble their work.  (For more details see Archaeology:  "Update—Return to the Great Pyramid" by Bob Brier)
Since then Project Khufu has been using cutting edge non-invasive methods and technology to survey, model, and analyze not just the Great Pyramid, but the entire plateau and other pyramids on the vast plain known as the Memphis Necropolis.  The results of their work, which includes a massive expansion of Jean-Pierre's theories as well as an impressive new immersive 3D presentation, will premiere, again at La Géode, on January 27, 2011.
Dassault Systèmes and Why They Matter
At first glance it may seem that Dassault Systèmes' involvement is primarily in creating the stunning 3D eye candy that brings Jean-Pierre's ideas to life.  And at second glance a more astute observer might realize that Dassault Systèmes's 3D rendering technology and engineering expertise provide a level of exactitude that goes well beyond the DIY modeling of most theories of the Great Pyramid.  But their importance to Jean-Pierre's work goes even deeper than this.
Dassault Systèmes does not just provide 3D modeling of facilities and equipment, from the bird's eye view of a manufacturing plant down to the smallest bolt in the most delicate machine in the site, they also perform virtual stress testing to predict what might happen elsewhere in the facility if that little bolt fails.  They can tell you the life expectancy of the machines and the products they will make.  They can tell you where the worker will have to stand to remain safe and avoid Carpal Tunnel Syndrome.  In other words, they don't just make pretty models, they know everything you can possibly know about the end result.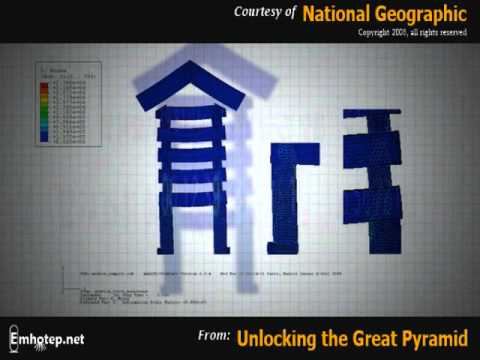 There are plenty of firms that could have done attractive 3D imaging of Jean-Pierre's ideas, but the significance of this marriage between the architect and the engineers is their ability to generate theories and then actually test them under laboratory conditions.  So the structures above the King's Chamber in Khufu's Pyramid are called the stress-relieving compartments.  Did they actually relieve stress?  Is there evidence?  Can you prove it?  What Dassault Systèmes brings to the table is the tools and the expertise to be able to say "Yes, yes, and yes…  Now let's show you."
Khufu Reborn
Khufu Reborn is the official launching of the next phase of Project Khufu, which will go beyond the Great Pyramid.  It is not just an update of Jean-Pierre's theories, it is the next step in the evolution of a new way of looking at the architecture of ancient Egypt.  The project began not with Jean-Pierre, but with his father, Henri Houdin, also an architect, who asked himself, "If I were given the task of building the Great Pyramid, how would I do it?"  Henri ignored the theories that had gone before, which suffered from a tendency to gloss over details they could not explain.  How would an actual builder build this?
This legacy has passed from father to son, and from architect to engineer.  With the involvement of Mehdi Tayoubi and Richard Breitner from Dassault Systèmes, the question continues to be how did the builders actually build this?  Jean-Pierre Houdin says he has figured it out, and the evidence certainly seems to back him up.  The team from Dassault Systèmes has put much effort into determining whether or not his theories could work and whether his interpretation of the evidence fits into the physical and technological world of Hemiunu, Khufu's Overseer of Royal Projects.
Khufu Reborn should provide more answers.  I will be there to cover the event, and will have plenty of opportunity to speak with Jean-Pierre about his work—past, present, and future.  I will also try to get some time with Mehdi Tayoubi.  If you have been following the Egyptological headlines you will know that Dassault Systèmes has also recently partnered with Peter Der Manuelian and the Giza Archives Project to form Giza 3D, and will also be contributing to the project based at Leeds University to explore the shafts in the Great Pyramid, the much-touted robot crawlers project!  Maybe I can learn more about this trend and the future of Dassault Systèmes's involvement in Egyptology.
One thing we do know…  It all began with a French architect saying Aha!
Note:  I will try to get one more chapter of Hemiunu to Houdin posted before leaving for Paris, but I can't make any promises!  But I can promise I will finish the series, even if some of the concepts will be outdated.  I feel it is important to have the full evolution of Jean-Pierre's work accessible for future analysis.
Copyright by Keith Payne, 2011.  All rights reserved.
Photo "Cite_des_sciences_de_la_Villette_-_Panorama3" by Suaudeau is in the public domain.  Still images "Mehdi Tayoubi" and "Richard Breitner" are taken from the video "Kheops Revele", copyright by Gedeon/Dassault Systemes, used with permission, all rights reserved.  Still photos "Bob Brier and Khufu", "Jean-Pierre at work", and the video clip "Analyzing the beams above the King's Chamber" are taken from the National Geographic video "Unlocking the Great Pyramid," copyright by National Geographic (orig. air: 11/16/2008), all rights reserved.  This video clip and the related still images are used in accordance with the fair use provisions of the Copyright Act.
Tags: Bob Brier, Dassault Systemes, Jean-Pierre Houdin, Khufu's Pyramid, Mehdi Tayoubi, Project Khufu, Richard Breitner, The Great Pyramid