Following up to the Mumab article, Em Hotep presents sixteen different mummy exhibits either already running or opening soon, from all corners of the world.  Who knows?  Maybe the mummies are coming your way soon…
With video clips when available (some clips are from previous runs of the same exhibit, but the content should be pretty consistent).  Enjoy!
"Egyptian Mummies"
National Museum / Národní muzeum
Václavské námstí 68, 115 79 Praha 1 Czech Republic
May 5, 2011 through September 30, 2011
"The exhibition presents the outcomes of the joint project of the National Museum and the Diagnostic Center Mediscan (member of the Euromedic Group) focused on the multi-disciplinary research of ancient Egyptian mummies…The display includes complete mummified human bodies of seven adult individuals and of one child, as well as examples of part of the funerary equipment presented in three exhibition halls. A separate part is dedicated to the cult of divine animals and animal mummies."
"Eternal Life in Ancient Egypt"
Smithsonian Natural History Museum
10th St, and Constitution Ave NW, Washington DC
November 17, 2011 through ???
"Eternal Life in Ancient Egypt presents stories that focus on Egyptian burial ritual, how it reflects Egyptian cosmology, and the insights that mummies, burial ritual, and cosmology provide about life in ancient Egypt. Understand how burial practices and associated religious beliefs serve as windows into common human concerns about life after death. Explore the ways in which mummies, tombs, and Egyptian mythology open new windows into the lives of ancient Egyptians as they navigated through the world of the living to achieve eternal life after death."
"Life and Death in the Pyramid Age:  The Emory Old Kingdom Mummy"
Michael C. Carlos Museum, Emory University
571 South Kilgo Circle, Atlanta, GA  30322
September 10, 2011 through December 11, 2011
"Acquired from excavations at the sacred site of Abydos in Middle Egypt by Emory Theology Professor, Rev. William A. Shelton in 1920, this mummy is the oldest Egyptian mummy in the Western Hemisphere and one of no more than half a dozen known to exist in the world."
"Lost Egypt:  Ancient Secrets, Modern Science"
Mayborn Museum, Baylor University
1300 S. University Parks, Waco, TX  76706
May 28, 2011 through September 5, 2011
"Lost Egypt is an immersive quest for knowledge that reveals how archaeologists use modern science and technology to uncover and understand the ancient civilization of Egypt. Through hands-on challenges, authentic artifacts and guidance from real archaeologists, visitors will unearth the mysteries of Egypt, its culture and its people. This exhibit features a real human mummy and animal mummies, as well as scans, forensic facial reconstructions and for the first time ever, a life-size rapid prototype of a mummy in a stage of "unwrapping."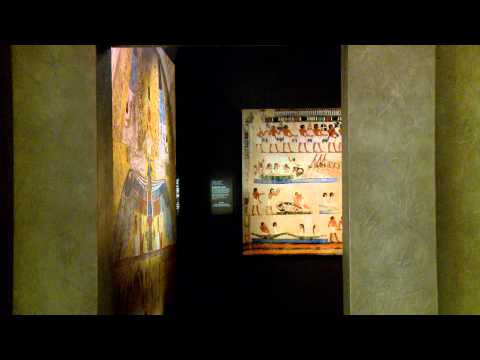 "Modern Day Mummy: The Art and Science of Mummification"
San Diego Museum of Man
1350 El Prado, Balboa Park, San Diego, CA 92101
June 11, 2011 through March 4, 2012
"Mumab, on permanent loan to the Museum of Man from the University of Maryland, School of Medicine, Anatomical Services Division, will be the central feature of this thrilling exhibit. It will showcase various types of mummies, both intentionally and naturally preserved, and the science and intrigue surrounding them. The exhibit also will illuminate how current research is performed on mummified remains, and what scientists hope to learn from them."
See also the Em Hotep feature article–   Mumab: A Modern Day Ancient Egyptian Mummy and What He Has Taught Us So Far
"Mummies of the World"
The Franklin Institute
222 North 20th Street, Philadelphia, PA 19103
June 18, 2011 through October 23, 2011
"Mummies of the World, the largest exhibition of mummies and related artifacts ever assemble is now at The Franklin Institute. This compelling collection, presented with reverence and dignity, includes ancient mummies and important artifacts from Asia, Oceania, South America, Europe, as well as ancient Egypt, dating as far back as 6,500 years."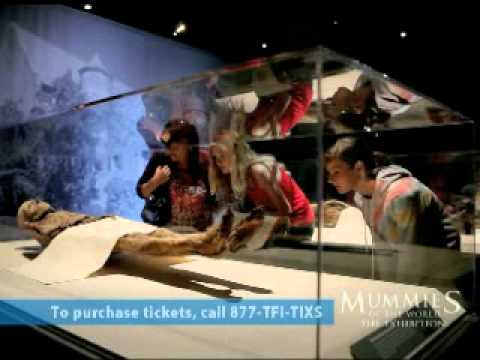 Also…
California Science Center
Exposition Park, 39th St. and Figueroa St., Los Angeles, CA  90037
July 1, 2011 through ???
"Mummy:  Secrets of the Tomb"
Virginia Museum of Fine Arts
200 N. Boulevard, Richmond, Virginia 23220
November 19, 2011 through March 11, 2012
"With more than 100 artifacts, including 4 human mummies, 2 animal mummies, gold masks, jewelry, canopic chests, massive sarcophagi, statuary and tomb lintels, the exhibition immerses the visitor in the life and death of one of the mummies, Nesperennub, a temple priest. A new accompanying 3-D film presentation – narrated by Sir Ian McKellan – uses the most advanced scanning technology to take the spectator on a journey that unwraps the mummy of Nesperennub in vivid detail and reveals the secrets of life and death in ancient Egypt."
"Mummies!  The Secret Unraveled"
Kunsthal Rotterdam
Museum Park, Westzeedijk 341, 3015 AA Rotterdam, The Netherlands
October 1, 2011 through January 2012
"The Kunsthal program for autumn 2011 includes the exhibition 'Mummies! The Secret Unraveled'. With over 225 objects, the Kunsthal presents a spectacular topic that brings ancient Egypt to life in a major family exhibition on mummies and burial rituals. Highlights include the mummy and tombs of Anchhor. Countless other artefacts are displayed including boats, jewels and figurines that were placed in the burial chamber along with the mummy."
"Mummies Uncovered:  Budapest Mummy Project"
Museum of Fine Arts Budapest
Dózsa György út 41, 1146 Budapest
Pf. 463, H-1396 Budapest 62
June 10, 2011 through October 22, 2011
"In spring 2011 the Museum of Fine Arts, Budapest launched a comprehensive program (Budapest Mummy Project) devoted to the interdisciplinary research of four mummified bodies in the Egyptian Collection of the Museum of Fine Arts, Budapest.
Beyond the Egyptological approach, the program includes scientific methods and medical diagnostic techniques, such as X-raying and CT-scanning, histological study, radiocarbon and DNA analysis of the mummies. The aim of the research program is to 'resurrect' four human beings who lived in Ancient Egypt and personalize their past…"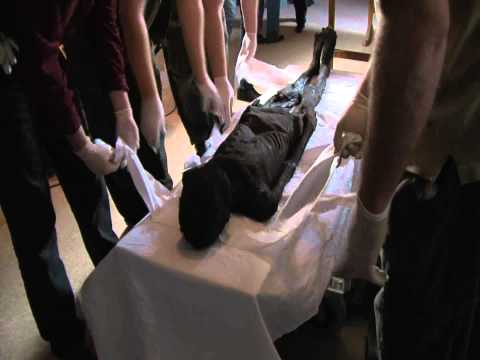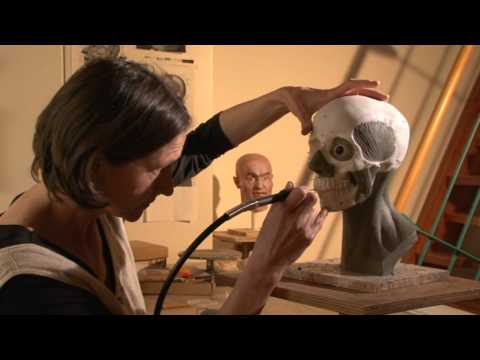 "Nefrina's World"
Reading Public Museum
500 Museum Rd., Reading, PA 19611
January 16, 2010 through 2011
"Thanks to a sculpture created by world-renowned forensic sculptor and artist, Frank Bender, and based on the detailed physiological portrait provided by CAT scans made in 2003, this is the first time the public will come face-to-face with this 2,000 year-old woman from the ancient Egyptian town of Akhmim."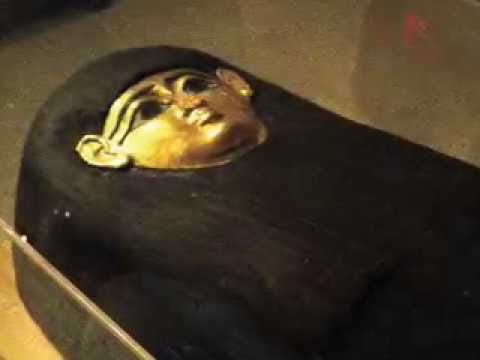 "Quest for Immortality"
Chiang Kai-shek Memorial Hall
Liberty Square, Taipei, Taiwan
June 12, 2011 through September 23, 2011
"An unprecedented exhibition of mummies, a reproduction of a pharaoh's burial chamber and hundreds of historical Egyptian relics…More than four mummies—including unwrapped ones, with their ages ranging from six to the thirties and status from royals to civilians, are also included in the show. A total of 268 historical relics spanning 6,000 years, have been culled from the Bolton Museum, Durham University Oriental Museum, and Jewry Wall Museum in the UK."
"Secrets of Mummies:  Burial Practices and Visions of the Afterlife in Ancient Egypt"
Musée Archéologique Départemental Jublains
13 rue de la Libération, 53160 Jublains, France
July 8, 2011 through December 13, 2011
"This exhibition centers around the two famous mummies of Besancon…The key pieces of the Egyptian collections of Besançon, combined with computer-generated images of mummies and sarcophagi…will be accompanied by loans from several museums recalling all aspects of this issue. Religion, rituals accompanying death, burial chambers and furniture evoking the afterlife…"
"The Egypt Experience: Secrets of the Tomb"
Toledo Museum of Art
2445 Monroe Street, Toledo, OH 43620
October 29, 2010 through January 8, 2012
"TMA's popular mummies return to public view for this exploration of ancient Egyptian beliefs about life and the afterlife. Believing that if they lived good lives they would live again in a better world after death, Egyptians spent great effort to ensure the preservation of both body and spirit…Tombs were built as "houses of eternity," places for living after death with the aid of ritual prayers, food and drink, and all the good things of life. The Egypt Experience: Secrets of the Tomb introduces visitors to the conversations between the living and the dead that formed a fundamental part of life in Egypt for thousands of years. "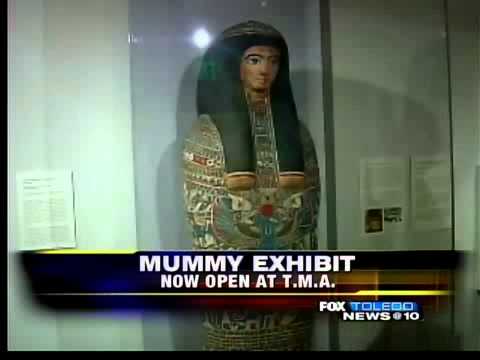 "To Live Forever:  Egyptian Treasures from the Brooklyn Museum of Art"
Nevada Museum of Art
160 West Liberty Street, Reno, NV 89501
June 11, 2011 through September 4, 2011
"Explore ancient Egyptian beliefs about life, death, and the afterlife in To Live Forever: Egyptian Treasures from the Brooklyn Museum. Featuring more than 100 objects including mummies, statuary, sarcophagi, coffins, gold jewelry, and elegantly-crafted vessels, the exhibition includes some of the greatest masterworks of Egyptian artistic heritage."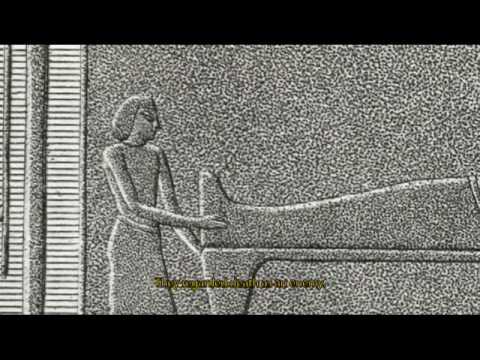 "Voyage to Immortality:  Egyptian Mummies and Eternal Life"
Archäologische Museum Frankfurt
Karmelitergasse 1, D-60311 Frankfurt am Main, Germany
November 5, 2011 through February 26, 2012
"This exhibition focuses on the ancient Egyptian concept of the afterlife, the practice of mummification, and the role of the sarcophagus in the cult of the dead.  Featuring artifacts on loan from the Egyptian Museum in Florence."
"Wrapped!  The Search for the Essential Mummy"
Washington State Historical Society
1911 Pacific Avenue, Tacoma, WA  98402
January 30, 2011 through September 11, 2011
"Wrapped! The Search for the Essential Mummy takes visitors on a journey into the ancient beliefs and traditions that answer the ageless questions: "Why do mummies exist?" and "What can ancient objects tell us about who these people were and how they lived?"  This exhibit features the story of noted Tacoma businessman Allen C. Mason and his travels to Egypt in the late 19th century, which resulted in the purchase of the mummy of Ankh-Wennefer, also known as "the WSHS Mummy."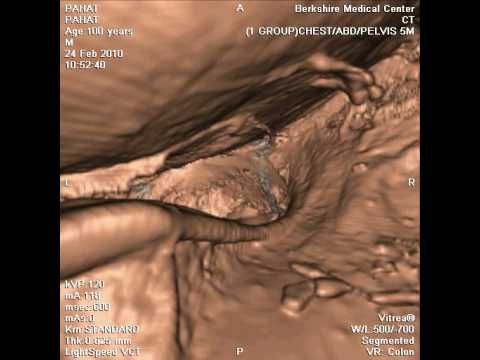 Copyright by Keith Payne, 2011.  All rights reserved.
Tags: Mummies